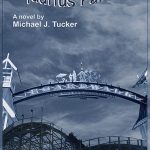 IT'S THE SUMMER OF 1964 in Ocean City and the region seethes in racial unrest. The Vietnam War escalates. The Beatles lead the British Invasion in the takeover of rock-and-roll. It is the Age of Aquarius, and against this backdrop, Tom Delaney loses his college scholarship just a year before graduation. With no money or family to fall back on, he hopes to find work at a thriving beachfront to avoid the draft and salvage his dreams.
Delaney soon encounters new friends who vie for his talents and will dramatically alter his future. Wendy Morrison, a beautiful surfer girl, wants his heart, the volatile criminal John E. Walker needs an accomplice, an exotic astrologer Misty Vail desires control of his destiny, and the mob boss Louis "Spam" Spamanado wants his mind. Swirling in a maelstrom of bigotry, petty crime, prostitution, and cocaine, Delaney struggles against waves of unbidden change to avoid arrest and the loss of what's left of his soul.
   Aquarius Falling is a fateful story of opportunity, love, and decision.